Infinite News :

We are open and sending out orders on our standard 5 day turnaround
Site Setup Allow Cookies Hide This Box Auto Login
Product Pages Hide After Choice Show Additional Information Show Imperial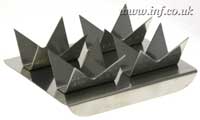 Medium 4x Four Prong Stand
Our Code:

CEKSE6
Stand for placing enamels on for the second firing. Ideal for odd shaped pendants the prongs can be bent to fit the pendant. These stands are lifted onto the kilm by a firing shovel. Base size 79mm wide and100mm deep.
Large versions of the header image can be found here