Infinite News :

Christmas 2018: We are turning around all orders in 2 working days and sending first class.
Site Setup Allow Cookies Hide This Box Auto Login
Product Pages Hide After Choice Show Additional Information Show Imperial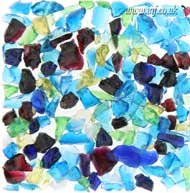 Transparent Glass Chips
Our Code:

CEGCTP
45g pot of mixed coloured and sized transparent glass chips for enamelling. 45g Pot.
Price:
£4.99
Large versions of the header image can be found here