Infinite News :

We are open and sending out orders on our standard 5 day turnaround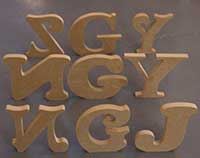 Individual Flat Based Letters
Our Code:

RLFLAT
The character sets have been designed so all the base lines of the character are flat and will allow the character to stand on a flat surface depending on thickness and height. Be aware that the thickness of the material will dictate how well the item stands, a 6mm ply character 5cm high is stable but a 10cm one will not be 18mm MDF is good up to 20cm. Thin material can be to light to stand but these can be glued onto bases. We can supply supports that can be glued onto the back of letters for greater stability please put in the notes if you require them.
Large versions of the header image can be found here
People who bought this item also bought