Infinite News :

We are open and sending out orders on our standard 5 day turnaround
Site Setup Allow Cookies Hide This Box Auto Login
Product Pages Hide After Choice Show Additional Information Show Imperial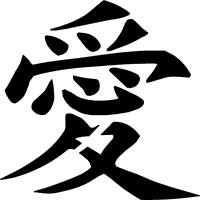 Japanese Kanji Character for Love
Our Code:

RSYTJPKLOVE
Japanese characters, this style of words are called logograms, Kanji each character can be identified with a western word this image represents "Love". We have had to adjust some of the characters so they work as stencils. Also in Infinite Shapes we sell the characters as a set of pieces to make the character. This is just a small range of the Kanji available please contact us if you would like any logogram that we have not got, you may need to help us with an image to get it right.

We design and cut all of our own stencils and add to the range all the time. For a multiple use stencil please choose the Mylar as this is easy clean and will last a long time. Card stencils make a great craft for everyone. If you want a design we don't have them please contact us and we will try and add it to our range.
Large versions of the header image can be found here