Site Setup Allow Cookies Hide This Box Auto Login
Product Pages Hide After Choice Show Additional Information Show Imperial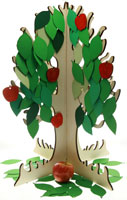 Messy Church Tree
Our Code:

KM0001
This spectacular tree is an amazing investment for your church and has a huge impact on everyone who sees it. Standing around 55cm tall and made out of substantial 6mm ply the tree can be flat packed for storage and then simply slotted together. The kit comes with the two interlocking tree halves, 150 leaves, 20 small wooden apples and the a length of thread to attach them onto the tree. Write prayers on the leaves or look at the Ideas tab for other ways to use the tree.

Number of people: Oh lots and lots - you can buy refill packs of leaves too!
Please note, as a percentage of this sale goes towards Messy Church discounts cannot be used on this item.
See "Related Products" for replacement leaves and apple packs as well as other things to hang on this tree.
Large versions of the header image can be found here
People who bought this item also bought