Site Setup Allow Cookies Hide This Box Auto Login
Product Pages Hide After Choice Show Additional Information Show Imperial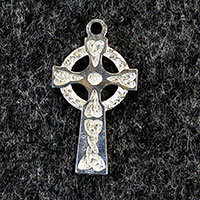 Pewter Celtic Cross Large
Our Code:

BMSPP0216
Large Pewter High Cross (Cross with a halo (nimbus)) with a Celtic knot work motif design style A. Detail on both sides.
Size 42mm height x 24mm width x 3mm thick hole diameter 3mm

Also avaliable in acrylic and wood as well as in a smaller size pendent in acrylic, pewter and wood as well.

Designed and manufactured in our own workshop from lead free jewellery quality pewter. We design all our own pewter pendants, buttons and beads. We also manufacture a large range of other jewellery items in acrylic, clay, wood and metal. If you can't find what you want on our site please contact us to discuss you requirements.


Large versions of the header image can be found here