Infinite News :

We are open and sending out orders on our standard 5 day turnaround
Site Setup Allow Cookies Hide This Box Auto Login
Product Pages Hide After Choice Show Additional Information Show Imperial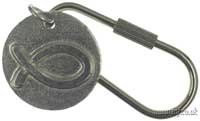 Pewter Coin Icthus Key-Ring
Our Code:

ICK188P
Pewter coin pendant key ring with a Icthus design. Pendant size 27mm. Packaged in long hanging card.
Large versions of the header image can be found here