Infinite News :

We are open and sending out orders on our standard 5 day turnaround
Site Setup Allow Cookies Hide This Box Auto Login
Product Pages Hide After Choice Show Additional Information Show Imperial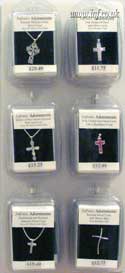 Small Trade Acrylic Rack Fall of Blister Boxes
Our Code:

ITCARASB
A small acrylic board with a Range of our blister boxed jewellery. The value of the boxes on this rack exceed the cost of buying them separately and include the board. Mounted on one of our small acrylic boards measuring 20cm x 44cm. The board can be mounted onto any wall or hung on slat wall, it also comes with its own stand for desks or shelves. Clear acrylic is total transparent so will show through the wall behind. The Pearl White acrylic is the same color as our hanging card packaging. Other colours available on request please ring for details.
Large versions of the header image can be found here