Infinite News :

We are open and sending out orders on our standard 5 day turnaround
Site Setup Allow Cookies Hide This Box Auto Login
Product Pages Hide After Choice Show Additional Information Show Imperial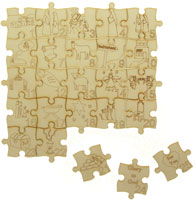 Wooden Advent Jigsaw
Our Code:

KM0012
Short summery: This unique advent jigsaw calendar has 25 wooden jigsaw pieces, each depicting a part of the story of Jesus' birth. Each numbered piece can be attached to the last in any direction giving you an endless variety of shapes that can be made. Follow Gospels account of the birth of Christ from Bethlehem to the wise men. Each jigsaw comes with a print out detailing exactly what each square represents.

Numbers: sold individually.

Large versions of the header image can be found here