Infinite News :

Christmas 2018: We are turning around all orders in 2 working days and sending first class.
Site Setup Allow Cookies Hide This Box Auto Login
Product Pages Hide After Choice Show Additional Information Show Imperial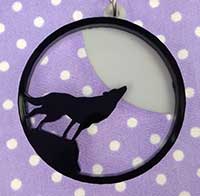 Howling wolf necklace
Our Code:

IGH004P
Each one of our pendants is hand made individually. We cut the separate parts from white and black acrylic with are laser. A special glue is used to weld these separate peices together Size info: 40mm in diameter 6mm depthChain: 20" silver plated and has a bolt ring to fasten.
Price:
£6.00
Large versions of the header image can be found here