Infinite News :

Christmas 2018: We are turning around all orders in 2 working days and sending first class.
Site Setup Allow Cookies Hide This Box Auto Login
Product Pages Hide After Choice Show Additional Information Show Imperial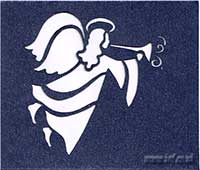 Small Cut-Out Folded Card with a Nativity Angel
Our Code:

RLCCSC-NAH
A small laser cut card in a light weight dark coloured card with an angel blowing a horn image cut out. The folded card is 105mm wide by 90mm high.
Price:
£0.50
Large versions of the header image can be found here