Infinite News :

We are open and sending out orders on our standard 5 day turnaround
Site Setup Allow Cookies Hide This Box Auto Login
Product Pages Hide After Choice Show Additional Information Show Imperial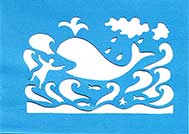 A6 Sized Cut Out Card with Jonah and the Whale
Our Code:

RLCSSC-OJS
A6 sized (Postcard size) laser cut image card. Old testament stories Jonah and the Whale, Jonah is being thrown of the boat into a rough sea with the whale coming up to swallow him. Tracing paper or tissue can be stuck behind and coloured in to create a stained glass effect. Card Size 15cm by 10.5cm the card are sent in a range of mixed colours (with this one it tends to be blue).
Large versions of the header image can be found here