Infinite News :

We are open and sending out orders on our standard 5 day turnaround
Site Setup Allow Cookies Hide This Box Auto Login
Product Pages Hide After Choice Show Additional Information Show Imperial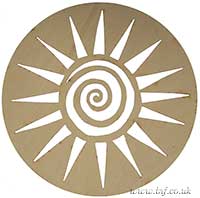 Enormous Cut Out Disk Creation Day 1, Light
Our Code:

RLPCEC-OC1
A enormous ply wood disk with a cut out image. The cut out image is a sun. Size 42cm diameter and 3mm thick.
Large versions of the header image can be found here