Infinite News :

Christmas 2018: We are turning around all orders in 2 working days and sending first class.
Site Setup Allow Cookies Hide This Box Auto Login
Product Pages Hide After Choice Show Additional Information Show Imperial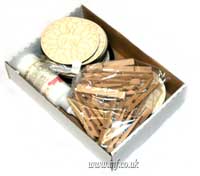 Pentecost Dove Disk Group Kit
Our Code:

RLPXGC-PD
Create a Pentecost memory holder. The kit contain 20 etched disks with 20 wooden pegs that can be glued with the supplied glue and a piece of paper attached to form a peg fridge magnet paper holder.
Price:
£27.25
Large versions of the header image can be found here