Infinite News :

Christmas 2018: We are turning around all orders in 2 working days and sending first class.
Site Setup Allow Cookies Hide This Box Auto Login
Product Pages Hide After Choice Show Additional Information Show Imperial

Infinite
Store
Ply Wood Shapes

Plain shapes have no design on them. Line draw shapes have thin detail lines they can be easly coloured with felt pen but should be varnished before they are worn. Etched pendants have thicker lines and images.
Square Cross with Rounded Corners
BWSPPC-SCL
Price:
£0.35
View Options and Buy >
Rounded Cross Plain Pendant
BWSPPC-SCR
Price:
£0.35
View Options and Buy >
A Cross Pendant with Rounded Ends
BWSPPC-SCM
Price:
£0.35
View Options and Buy >
Ply Wood Shape Pendant Cross with a Creation Image
BWSPLC-SCC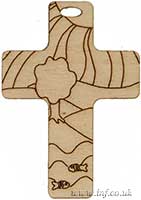 Price:
£0.35
View Options and Buy >