Infinite News : August 2018

We have upgraded our site to https:// for a more secure site. If you have come to the site through a search result or an old link you may be seeing a unsecure page that if you try and add to cart from you will get an error. If this happens go back a page on you browser and click on the logo in the header to be taken to our secure site.
Site Setup Allow Cookies Hide This Box Auto Login
Product Pages Hide After Choice Show Additional Information Show Imperial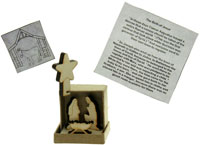 Mini Nativity in a Box
Our Code:

KM0010
We all know that anything that is hugely over or undersized has instant apeal. This pocket sized nativity box is only 5cm by 3cm tall but contains transforms into a mini stable scene with a base that allows you to slot Mary, Joseph and a manger into place. It even has a slot on star! Includes the nativity story from Luke and a colour in background for the stable which can all fit inside the box and slipped into a pocket.

Price: Part of the '10 for a tenner' range.

Price:
£10.00
Large versions of the header image can be found here