Infinite News :

We are open and sending out orders on our standard 5 day turnaround
Site Setup Allow Cookies Hide This Box Auto Login
Product Pages Hide After Choice Show Additional Information Show Imperial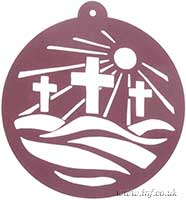 Medium Cut-Out Disk Easter Crucifixion Scene
Our Code:

RLCDMC-ECT
Easter crucifixion scene of three Crosses on a hill. A 20 cm laser cut disk in a light weight dark coloured card. Tracing paper can be stuck behind the image and coloured in with felt pens, or tissue paper can be stuck behind the card to give a stained glass effect.
Large versions of the header image can be found here