Site Setup Allow Cookies Hide This Box Auto Login
Product Pages Hide After Choice Show Additional Information Show Imperial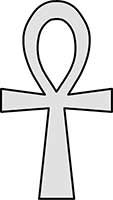 Ankh Egyptian Hieroglyph for Life
Our Code:

RVYTEHANKHA
Iogograms from around the world Egyptian Hieroglyph characters, Anke, this is the image for Life.
Ankh Wikipedia,
We can cut a huge range of Iogograms from many different countries please contact us if there is one you want.

We manufacture cut-out craft shapes in a large range of sizes and materials that include ply wood, MDF, felt, foam, card and acrylic. Most of the shapes can have holes added if required please use the item notes if what you want is not listed under other options. If this is the first time you have ordered shapes from us please read the shapes Frequently Asked Questions.
Large versions of the header image can be found here