Site Setup Allow Cookies Hide This Box Auto Login
Product Pages Hide After Choice Show Additional Information Show Imperial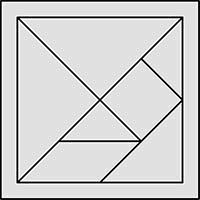 Tangram Set with a Box Around
Our Code:

RVYSTGMSB
A Tangram Chinese dissection puzzle.
Tangram on Wikipedia

All puzzels are cut in plain uncoloures poplar ply wood either 3 or 6mm thick
We offer in a few sizes but can cut other sizes on request.

Small the internal square is 10cm by 10cm with a 1cm boarder around
Medium the internal square is 15cm by 15cm with a 1.5cm boarder around
Large the internal square is 20cm by 20cm with a 2cm boarder around
A base can be added so that the outer square so all the shapes can be stored in.

We can cut individual items from the Tangram or whole Tangrams up to 40cm by 40cm. We can also cut in colored acrylic, felt or foam that would make a great teaching resource. For more details please contact.

We manufacture in a large range of sizes and materials that include wooden ply and MDF as well as cutting in felt, foam, card and acrylic. Most of the shapes can have holes added if required please use the item notes if what you want is not listed under other options. If this is the first time you have ordered shapes from us please read the shapes Frequently Asked Questions.
Large versions of the header image can be found here